The clock: funded by a local tradesman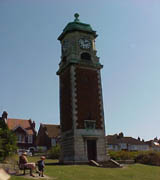 At the opening ceremony of the Park to the public, the mayoress, Mrs.Ewart, commented how nice it would be if someone would fund a clock tower to be built in the park like the one in Preston Park. Unfortunately it would be twenty years before anyone did!
William Godleye's bequest
In 1912 William Godleye, a Brighton tradesman living in Montreal Road, died and left a bequest of 1,000 for a clock tower to be built. Apparently this was because for years he had been pestered in the park by children asking him the time! In 1915 the clock tower was erected.
A reputation for inaccuracy
Nowadays the tower has a reputation as never quite telling the correct time. It's either just a bit too fast or a bit too slow.