George Duddell: purchased the estate c1863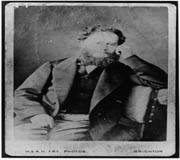 By the age of thirty six George Duddell had made his fortune in Hong Kong by becoming an influential property owner. He then 'retired' to England and by 1863 had decided to give up his bachelor's life in London and settle down.
Moved to Brighton
Duddell had friends in Brighton and, just as today, it was a very attractive and fashionable place to be in. It was at Queen's Park that he saw the house where he would be able to live in the grand style he was accustomed to. After a loan from his wealthy friend, Mrs. Blake, Duddell was able to purchase Attree's villa and the Park.
Duddell's household
Duddell was unmarried but brought his niece Sophy to live in the villa with her four young children. Sophy was Duddell's eldest brother's daughter. Both of her parents died and Duddell became her guardian when she was sixteen. Though there are no records to prove it, it seems likely the four children were Duddell's. Duddell also brought his elderly mother and another illegitimate son, George Minza, his "adopted son" from Hong Kong.
A friend of the working classes
Duddell fully entered into Brighton life. He was elected to the Town Council and represented Park Ward for several years. He was a liberal and gained a reputation as a friend of the working class. He made a wide circle of friends in Brighton and soon became a well-known character there.
Produced the Brighton Mail
In Hong Kong Duddell had published the Hong Kong Times. In Brighton he continued this interest by setting up a small printing works in the 'Pepperpot' on his estate. He called it Tower Press and produced a daily newspaper called the Brighton Mail.
Complicated private life
By 1868 Duddell's great niece, Kate Dubois, was living at the villa. Duddell had offered Kate a home after her parents had died. The situation at the villa must have been very difficult and the arrival of this younger woman must have annoyed Sophy greatly. By now Sophy had had two more children, with Duddell being the likely father to most, if not all, of the six children. Interestingly none of them feature on the 1871 census.
The departure of his first 'wife'
By 1870 Sophy was pregnant for the seventh time. In the same year Kate, who was nineteen, also became pregnant! Her first child was William Dubois Duddell, with Duddell being named the father. By now the situation of the two mistresses in the same house had become too much for Sophy, so she took the children and left for London. Duddell supported Sophy financially and she subsequently married a clerk and had children with him.
Legally married in 1881
Kate gave birth to a daughter, Blanche, in 1879 at the villa. The birth certificate makes no attempt to hide the fact that Duddell was the father. Whereas Duddell could not legally marry Sophy he did eventually marry Kate in 1881. Duddell was now sixty and Kate was 28. Life settled down after the marriage with Kate now taking the responsibility of supervising and running the villa and the Park.
Dies aged 66 in 1887
The 1881 census shows that they had thirteen servants working for them. The couple continued to take part in Brighton's social life, giving dinner parties, meeting friends and taking part in local affairs.  Duddell's health was steadily declining and it was beginning to slow him down considerably. Ten days after catching pneumonia he died at the villa on 31st December 1887 aged 66.
His widow
Kate was a wealthy widow now who lived at the villa for another three years before she sold the estate. After the sale she became even wealthier and went back to London. She married again and lived a full and happy life until she died aged 79.
'George Duddell' by Ken Vernon was referenced in the writing of this article.