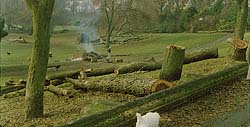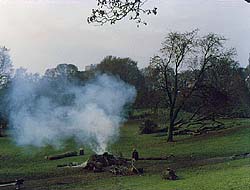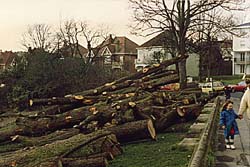 On the night of the 16th October 1987, high winds swept across Southern England causing huge damage and destruction.  The storm had a devastating effect on the Park.
Elm trees swaying in the wind
A local resident, Simon Maxwell, looked out of his window at midnight and saw: "…great elm trees a hundred feet high, swaying in the wind and then crashing to the ground, flattening cars along the Drive and blocking all roads. When dawn came, the park had lost a hundred mature trees.
A funeral pyre which burned for weeks
There was a fallen tree every ten yards along West Drive and people stood with tears in their eyes. The branches were collected and burned on a huge bonfire below the Clock Tower: it was like a funeral pyre which burned for weeks.