Childhood camping holidays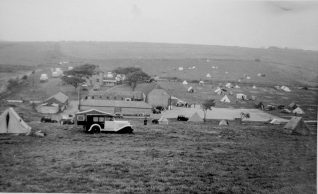 From the private collection of Clive Custance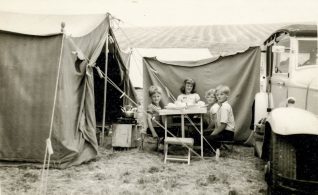 From the private collection of Clive Custance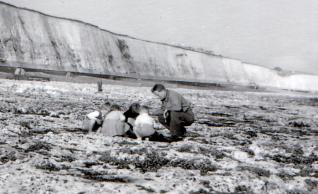 From the private collection of Clive Custance
Highlight of the year
In the mid 1950s onward, as kids, Sandra, Keith, Jenny and myself, many of our summer holidays were spent camping in Brighton at the Sheepcote Valley camp site. Our father, Nigel Custance grew up in Brighton as a child, but after his naval service through the war, ended up settling in Gravesend until 1960, when we moved to Baxter Street in Brighton.  Our Brighton camping holidays were often the highlight of the year for us as kids. 
Camp site singalongs
We would walk down to the beach from the campsite – passing along Riflebutt Road and picking up fresh bread from the bakery on the way back. We spent our time swimming, prawning and fossicking around the rock pools at Black Rock that were endlessly fascinating. Camping was great fun, there were sometimes singalongs held at the old barn on the camp site, and I remember watching the harvesting machines at work in the surrounding fields.
Brighton still home
I do remember there was an old late 1920s Rolls Royce parked in a shed in one of the fields we used to pass on the way to the beach and I was always disappointed Dad would not let me go over and explore it -wish I had it now.We all loved moving to Brighton in the 60s, it was a great place and time to grow up in, and although I moved to Australia in the early 1970s, Brighton is still 'home' deep in my bones.