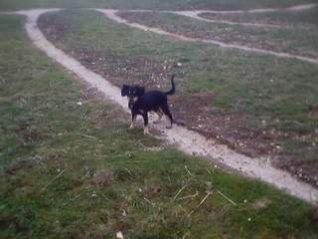 My favourite place in Whitehawk is above the White Hawk in Sheepcote Valley. When I'm walking my puppy along the top of the hill, sometimes higher than the hunting kestrels, I can look down across the valley to Race Hill on the other side.
See the Isle of Wight
Behind me, the sea stretches from the Seven Sisters in the east right around Shoreham harbour to Worthing in the West. On a clear day you can see the Isle of Wight. Curiously, wherever I stand in Brighton, the horizon of the sea seems to be higher than I am – a fact I've never understood!
White hawk carving
In the summer of 2001, local artists Same Sky worked with The Friends of Sheepcote Valley and the residents of Whitehawk to carve a stylised figure of a white hawk into the chalk. When the figure was completed, there was an inaugural party on the hill.
The beacons lit
From my attic window, I could see beacons being lit on the chalk – I knew there would be baked potatoes and fireworks for all those who had helped. What I didn't know was that the hawk itself would be lit – it was the most spectacular sight – a glowing, fiery hawk! Congratulations to all involved.
For those who are worried that the weather will eventually eradicate the chalk, there is this encouraging news from the Same Sky website: Each year there will be celebrations on the anniversary of the creation of the white hawk ,which will include re-carving the hawk to help maintain it.