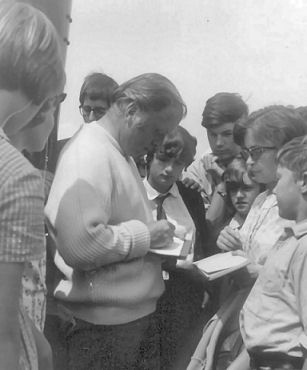 From the private collection of Jennifer Drury
A college tour
In the mid 1960s whilst attending Brighton Technical College, our Liberal Studies teacher took us on a tour of the battle field recreated for the film 'Oh What a Lovely War' at Sheepcote Valley. The film starred many famous actors like John Mills, Kenneth More, Laurence Oliver and too many others to mention. Richard Attenborough was the director.
Appearances were deceptive
There were massive concrete gun emplacements which were actually wooden frames sprayed with a coarse finish and painted in grey, slit trenches and the very clever rows of crosses from the final scene. A curved structure was built rising at the back and covered in something to look like grass. The crosses were full size at the front, but got smaller towards the back, giving the impression of distance.
Origins of the tip?
Many hours were spent at the tip as then it was easy to enter on a Sunday and look at the lovely old cars before they were buried. I was told the tip started after the war when tanks and armoured vehicles were buried to prevent the local lads making off with live ammunition and other souvenirs.