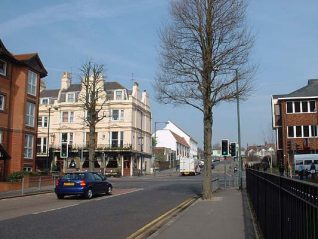 Photographed by Bill Maskell 24-03-03.
Several street names of the area of Hove surrounding St Ann's Well Gardens tell the story of an industrious and remarkable immigrant family whose members successfully campaigned in the Victorian age for legislation which lifted the restrictions on Jews, Catholics and other non-Anglicans, enabling them to enter government, the professions and higher education for the first time.
Sir Isaac Lyon Goldmid (1778-1859) was the grandson of Aaron Goldsmid, a Jewish merchant from Amsterdam who settled in this country with his family in 1763. Sir Isaac was a banker and financier who kept company with the leading intellectuals and statesmen of his day, and was a very progressive thinker. He was a founding member of the group that established UniversityCollege, London, purchasing the site with his own funds. He was a pioneer of the Reform Synagogue in England, this work being continued by his son Sir Francis Goldsmid, MP (1808-1878), who also supported many of his father's other causes.
When Sir Isaac completed his purchase of the Wick Estate in 1830, much of it was still open countryside. A property known as The Wick, which once stood just to the south of the modern park, became his seaside retreat. As Sir Isaac and his successors developed the surrounding area, they sought to record aspects of Anglo-Jewish history, together with the achievements of  family members, in the names of the new roads that they built.
Cromwell Road
This is the western continuation of Davigdor Road. Its name records a significant moment of history.  In 1290 all Jews were expelled from this country. They were unable to return until Oliver Cromwell gave his permission in 1656.
Goldsmid Road
This road was one of the first to be built and bears the family name. Conveyances of the properties there are dated 1843 – long before most of the neighbouring developments took place, and therefore completed during the lifetime of Sir Isaac Goldsmid. Extends westward from the Seven Dials and originally included a section of what is now Davigdor Road.
Palmeira Square/Palmeira Avenue /Palmeira Mews
To the north of Adelaide Crescent. In 1846 Sir Isaac was awarded the title Baron de Goldsmid e da Palmeira by the government of Portugal after his timely intervention sorted out the terrible financial muddle which had arisen when Brazil was granted independence. Goldsmid never used the title of  Baron, preferring simply to call himself Sir Isaac, which was his right as a result of the baronetcy conferred upon him by Queen Victoria in 1841 . However, one of his great grandchildren chose to revive it, calling herself Violet Baroness de Goldsmid e da Palmeira (1869-1949).
Holland Road
From Kingsway all the way up to Lyndhurst Road. Commemorates Lord Holland, a close friend of Sir Isaac who made great efforts to support his campaign for Jewish emancipation. He put in a request to Lord Melbourne for the title of Baronet to be conferred on Sir Isaac.
Lansdowne Road/Lansdowne Place/Lansdowne Street
Lansdowne Road runs from east to west just to the south of the gardens. Lansdowne Place and Lansdowne Street connect to the south side of Lansdowne Road. Named after the Marquis of Lansdowne who was prominent among the Liberal peers who supported Sir Isaac in his efforts over many years for the removal of the civil disabilities of  Jews and other groups.
Somerhill Road/Somerhill Avenue
These roads lie on the western boundary of St Ann's Well gardens. Somerhill was a large country house and estate near Tonbridge in Kent which was purchased by Sir Isaac in 1849. It became home for at least two generations of his descendents.
Nizells Avenue/Nizells Lane
Nizells Avenue forms the northern boundary of St Ann's Well Gardens. Nizells Lane is a pedestrian way between Nizells Avenue and Davigdor Road. Nizells was another large house near Tonbridge bought by the Goldsmids.
Davigdor Road
This is the continuation of Goldsmid Road through to Cromwell Road. In 1840 Sir Isaac's daughter Rachel married a French Jewish aristocrat, Count Solomon Henri d'Avigdor. As with all of Sir Isaac Goldsmid's daughters who married, the name Goldsmid had to be incorporated into the family name as a condition of inheritance. The children of Rachel and Solomon were known as d'Avigdor-Goldsmid. This line of the family was responsible for much of the later house-building development within the area of the Wick Estate.
Julian Road
Runs between Addison Road and Davigdor Road. Named after Sir Julian Goldsmid (1838-1896), whose father was Sir Isaac's youngest son, Frederick. He succeeded to the family estates (including Wick) when his uncle Francis died in 1878. Like both his father and uncle, he was an MP, serving for thirty years and becoming Deputy Speaker. He was also a Director of the London, Brighton and South Coast Railway. An engine was named Goldsmid after him in 1892.
Osmond Road/Osmond Gardens 
Runs between Addison Road and the top of Nizells Avenue. Sir Osmond Elim d'Avigdor Goldsmid (1877-1940) was the grandson of Count Solomon d'Avigdor and Rachel d'Avigdor-Goldsmid. On the death of Sir Julian Goldsmid he succeeded to the family estates, including Somerhill in Kent, where he became very dedicated to that county,  being appointed both Deputy Lieutenant and High Sheriff. Retired from service in the Great War with the rank of Lieutenant Colonel. Sir Osmond controlled the County Land and House Company which developed the area of the Wick Estate between Davigdor Road and Old Shoreham Road for housing, 1897-1910.
Montefiore Road
Between Old Shoreham Road and Davigdor Road passing over the main westbound railway line. In 1850 Emma Goldsmid, the youngest daughter of Sir Isaac, married Dr Nathaniel Mayer Montefiore (1819-1883). The family inheritance passed to their younger son, Claude Goldsmid Montefiore (1858-1938), when his brother Leonard died in 1879. Claude was a renowned biblical scholar, respected by both Jew and Christian alike. A man of great learning and social good works, he was effectively the originator of the Liberal Jewish Synagogue, feeling that Reform Judaism had not gone far enough in its journey from Orthodoxy. He was able to freely pursue, and give financial support to these interests on account of considerable family wealth from both sides. Legal records show that Claude Montefiore had a direct  involvement in the management of the Wick Estate at the time that Montefiore Road was built.
Lyndhurst Road
Runs between Montefiore Road and the top of Holland Road on the north side of the railway line. This road is part of the development originally called the Lyndhurst Estate. Commemorates Lord Chancellor Lyndhurst, who successfully guided Sir Isaac Lyon Goldsmid's Jewish Disabilities Removal Act through the House of Lords in 1845. Unusually among Goldsmid's supporters he was a Tory.
Addison Road, Colbourne Road, Granville Road, Melville Road 
These appear to be named after either local councillors or Liberal peers who assisted Sir Isaac in his successful efforts to introduce new legislation.
Lyon Close 
This is a recent adoption, leading from Davigdor Road into the trading estate which lies between Holland Road and Montefiore Road on the south side of the railway line.
Harks back to Sir Isaac Lyon Goldsmid, although the name did reappear among his later descendants.
Note from the Editor: 
I have tried to make the above history as accurate as possible from a wide range of records. I am happy to be corrected on any of it, and would also welcome your comments. 
Pat Benham