Pre-war memories of Stanmer Village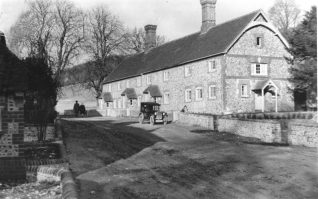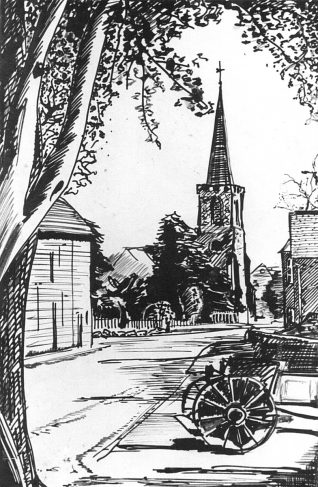 Stanmer Village in its splendid Park setting was always close to my heart – and still is, though I've lived way up North for nearly fifty years now. With my parents we would often take a bus to Patcham, climb the hill, cross the Ditchling Road and enter Stanmer Park by the top lodge. There followed a saunter down the path which eventually joins the village street. Then through the Park and onto the Falmer road for a Southdown bus home.
Village reduced to rubble
This possibility was interrupted by the war. It seems unbelievable now but this enchanting village was reduced to rubble by soldiers on battleground manoeuvres. The ultimate rebuilding, after hostilities ceased, was remarkable too. The attractive flint and brick houses were strikingly reproduced to echo their former perfection.
It is interesting that my two pictures shown here are a photograph and a sketch, taken from virtually the same spot but in exactly opposite directions. Much of my boyhood was spent trying to decide whether I should be an artist or a photographer! The photo was taken shortly after the rebuilding of the village, and the drawing followed a year or two later. Subsequently (after I had decided to be a photographer..!) I took photographs of Stanmer for the Brighton and Hove Herald's 'Beauty Around our Borders' series, and also played cricket on that beautiful ground, when the mansion house became our pavilion.
Yes, a very special place!