A performing dog and a rude parrot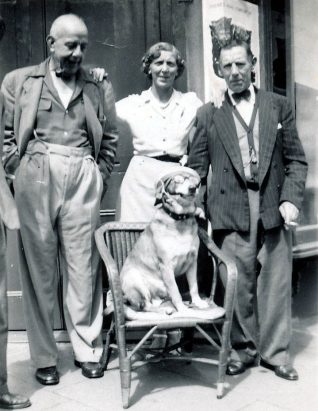 From the private collection of Barrie Searle
The landlord's dog Toby
I took this photo in front of the entrance to the Fitters Arms.  The chap on the right was the landlord Tom Eade with his wife, Eadie and left of the picture the landlord of the White Hart, Percy Searle. Sitting in the chair was Toby, Tom's dog.  Toby was a lovely dog, he liked nothing better than to sit in a chair wearing his hat and glasses with a pipe in his mouth.
Entertaining the customers
When Toby felt bored he would trot down to our pub, the White Hart and sit in one of our chairs.  Actually Toby was an asset to us as he could do 'tricks'.  The best one being asking him to get various objects from the cellar, such as a bottle of light ale/brown ale/cider etc or even a mallet or spanner.  Tom showed me how to set up this trick which I found useful in keeping customers inside the pub buying more drinks!  Of course I always gave Toby a biscuit for his troubles.
A rude talking parrot
Tom also had a talking parrot in his bar. Unknown to his wife Eadie, Tom and the cellarman taught the parrot a few, rather naughty, words. Tom told me that one day Eadie was in the bar on her own when the brewery rep. called in. The rep. went over to the parrot cage, put his finger in the cage and said 'pretty polly' (as one might).  The parrot told the rep. to 'go away' but in much fruitier language, Eadie was extremely embarrassed.  Tom was at work at the time but he had to suffer the wrath of Eadie when he arrived home after work.  Of course he was in denial re. the parrot's English teacher….so would I have been…any man would, nothing like being a devout coward in such circumstances.