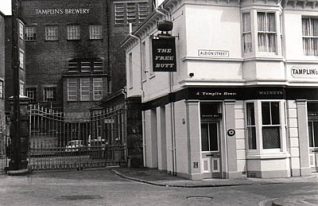 Photo taken by Martin Nimmo, circa 1968
It's difficult to tie Brighton's own brewers, Tamplin's, down to one place, though the brewery was on Albion Street and there was a pub at the entrance, called "The Free Butt".
Brewed in various parts of Brighton
Tamplin's also had other parts of the manufacturing process around Brighton, notably The Maltings, on the corner of Eastern Road and Sutherland Road – now incorporated in Brighton College. Tamplin's were ubiquitous in the area, with a large number of tied houses, served by a fleet of blue brewery lorries, its ales advertised on the exteriors of the local buses and frequently on the back of the Corporation's bus tickets. It was initially taken over by Watneys, then subsumed in one of the great conglomerates of today.