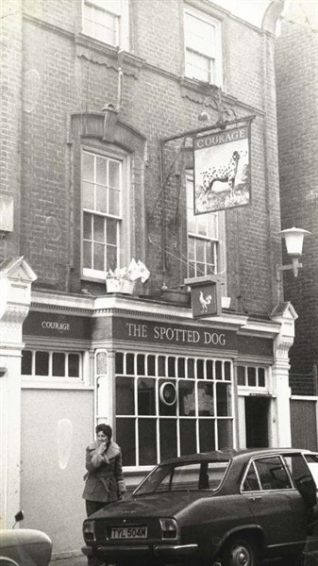 From the private collection of Vernon Page
An elderly landlady
In the late 1960s I frequently went to the 'Spotted Dog' pub at 13, Middle Street in the basement. I was 17 at the time but I must have passed as 18. Rather curiously the 'Spotted Dog' was run by an elderly landlady, who kept order and made sure that her patrons behaved themselves. In those days the pub had a front and back bar. A corridor led from the front door and the bars were accessed separately from this. It was laid out much the same as a house, with a walled-in staircase with a door leading to the upstairs quarters of the landlady. 
A 'queer bar'
The bars were very small and the working area in the bar was an extremely tight space. There wasn't any explicit gay appearance to 'The Dog' and if you had walked in there it would not have been immediately obvious that it was a gay bar, with the exception being that you would not have found any couples, straight couples that is, frequenting the bar. If 'straight' people did stray in, the guys inside would quietly snigger and have friendly bets about how long it would take them to realise they were in a 'queer bar'.
Dare to go in?
I remember my friends – my straight, teenage friends – would talk about the 'Spotted Dog' but would never dare to go in. I think they imagined some utter depravity would befall them the moment their foot went over the threshold. It wasn't like that guys, honest!