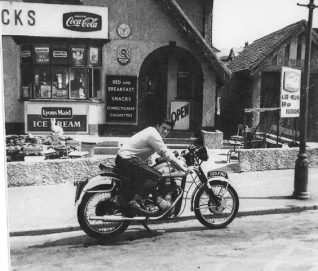 From the private collection of Christopher Wrapson
Opened in 1959
Do you remember the Oak Leaf Coffee Bar on Saltdean seafront? The Oak Leaf was an immediate success when it opened its doors in the Spring of 1959 and became a popular haunt with local teenagers.
Frothy coffee and Pepsi
We would spend all our pocket money on frothy coffee and Pepsi Cola, or putting it in the juke box playing favourite records over and over again. Many of the Oak Leaf lads owned motorcycles like the one shown here.
The 'magic ton'
I recall a popular pastime on summer evenings was to race the bikes between Rottingdean Windmill and Marine Gate flats. You could attain the "magic ton" on this long straight stretch of the A259. Of course this was before speed cameras were in operation. It was also before the Ovingdean roundabout was built, and many years before the road was diverted at Roedean Golf course.
Brighton speed cops
In those days however, you would need to keep a sharp look out for the Brighton speed cops on their powerful motorbikes. The splendid machine in the photo here is a 1959/60 BSA Goldstar DBD32 350cc, nicknamed 'The Cafe Racer'.  The more popular  'Goldie' was of course the more powerful DBD34 650 twin.
You will find The Oak Leaf Story and details of the 2010 Oak Leafers Reunion here