Remembering my days as a 'Mod'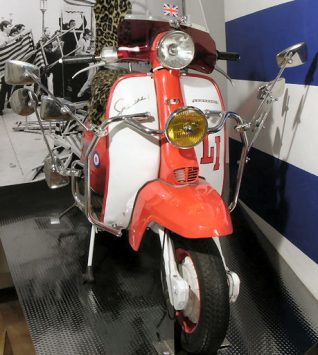 Royal Pavilion & Museums, Brighton & Hove
My favourite pinball machine
Every time I pass The Cottage I think of all my old friends from my 'Mod' days. Most people seem to remember the juke box, but my favourite machine had a pinball in it, and I would spend many hours playing for those highly desirable replays. Upstairs was like a social club where we would sit in our Parkas and plan our entertainment, which party to gatecrash, which town would benefit from a mass scooter visit at the weekend, stuff like that. When the food and sugar from the bowl in the middle of the table ran out after flicking it at each other, it was time to leave for another coffee bar.
Showing off round the bends
Usually we went to Tiffany's; the journey gave a great opportunity to show off, rounding the bends through Kemp Town and scraping the exhaust pipe on the road in a shower of sparks. Beer and pubs were for old men, but in any case with petrol at 4/6d a gallon and spotlights to buy for your scooter, mine had about 40 on it, you could not afford it.
A memorable accident
Our Lambrettas and Vespas, would be lined up outside The Cottage, and one evening I'd just parked, when a taxi pulled out from Middle Street into Duke Street. Suddenly  a Jeep ran into the side of the taxi. The open top Jeep sailed through the air in front of my face, complete with its four occupants, in a sort of slow motion tumbling effect, and landed upside down on the road in front of me. Surprisingly they all crawled out from underneath unhurt. The taxi was pushed sideways and hit the row of scooters and crushed Tony Marlow's into the wall of the pub.
Remembering old friends
I ran into the Cottage, gagging to tell everyone the news and it evacuated the place. I don't know why we couldn't stop laughing at Tony's broken machine, maybe it was because it was now half its original length. Regards to the names I remember:- Mike Small, Alan Clayton, Joe McGrath, "Dozy" Dave Mitchell, "Pontious"(never knew his name), Alan Miles, Tony Rhodes, Tony Marlow, Pete Johnson, Larry Poulton and Rod and all the girls who were the main focus of our lives.