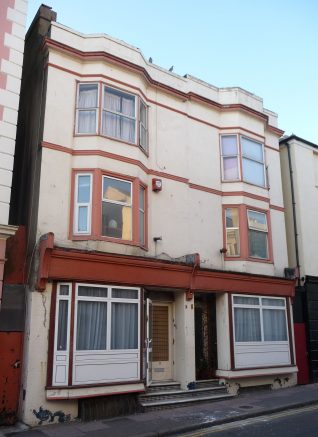 Photo by Michael Brittain
Legendary spaghetti bolognese

The long gone Vesuvio's Restaurant in Brighton is sometimes brought up in conversation with old friends, it was in Middle Street, opposite the Hippodrome and we sometimes ate there in the 70's and early 80's. I remember eating there after the pubs had shut and having their legendary spaghetti bolognese in about 1973. The restaurant was on two floors so there always seemed to be a free table and it was full of the people you had just seen drinking in the pubs around town.
Formidable menu
The menu was formidable; amongst the several pages of choices you could always find something that whetted your appetite. One of my friends used to often order a roast dinner followed by apple pie and custard; this was after the pubs had shut on a Friday or Saturday night. Looking back those waitresses must have had a hard time taking orders and serving the rowdy after pub crowd, but in saying that; I never saw any trouble when I have eaten there.
History of the building
It looks like the building has been an eating place for many years. I remember the large front windows had etched glass which looked pretty old; I'm sure it said the words 'Dining Rooms'. The building has now been turned into flats, but I'm sure it had a rich history as a café or restaurant serving the people of central Brighton. Does anybody else remember eating in Vesuvio's, I believe it was popular with the after bingo crowd in the 80s. Also, does anybody have any information on the businesses and history of this building?