Memories and faces: 1959-63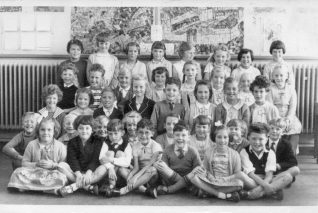 From the private collection of Helen Shipley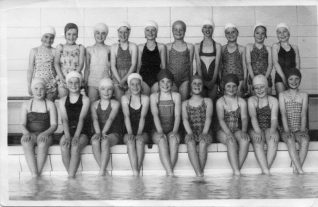 From the private collection of Helen Shipley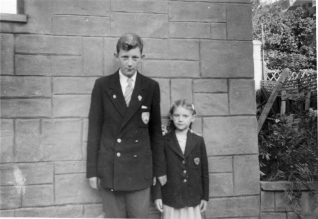 From the private collection of Helen Shipley
Here are two photos from my time at Benfield County Primary School in Portslade. I attended from 1959 – 63 and I think the first photo must be from the earlier years and the 2nd may be a bit later. I used to be able to remember all the names but my memory, like some other things, is not so reliable these days. I will have a go at the names and make apologies in advance for any errors or gaps – they will have little or nothing to do with anything, except my poor memory.
First Class Photo c 1961
Front Row – left to right:
Oh dear… Barbara?, ?, no the challenge is too much, I remember the faces so well but the only names I recall from the front row are the three on the right end – James (Jimmy) surname escapes me, Janet Chandler and Ian – I think. The last one could be wrong.
2nd Row
Phooey – the only one I remember is Stephen Burgess on the right hand end.
3rd Row:
??, Iris May, Gerald ?, Gloria??,  next girl another name beginning with G (yes, I only know because I wrote the initial on!), Ann Holland and Gail Mitchell.
4th Row:
Hmm 1st one might be Stephen Burgess – so I could have got the 2nd row totally wrong. Next, Philip something, I think, then David Foster Smith, Marion ?, me – Helen Clifford, Sylvia    , Kim  and lastly Theresa Lush.
Back Row:
Cannot remember names of first 2 girls, 3rd is Alison Holden – I think, next is Rosemary Cooper, cannot remember next 3, then Linda Glanville.
Girls' Swimming Class – Photo taken at the King Alfred
Every week we would troop to the King Alfred Swimming Baths in Hove. We went by bus and I hope we were a lot better behaved than some school children these days, it must have been quite a challenge for our teachers in any case. I don't think we went swimming in the 1st year at the school but I could be wrong. Linda Glanville was probably the best swimmer in our class and she competed at swimming galas and belonged to the 'Shiverers' swimming club, based at the King Alfred.
Front Row – Left to right:
Theresa Lush, Linda Glanville, 2 blanks, Rosemary Cooper, Alison Holden, 2 blanks and then me again.
Back row:
Barbara???, blank, Gail Mitchell, blank, Marion, blank, Ann Holland, and lastly 3 more blanks.
I hoped I would do better than that, I will add any I remember later but some of you out there can probably do much better than me anyway.
School Teachers
Teachers I remember are:
Miss Bowyer (I think), Miss Clifford, Miss Belinfante , Mr Brooks , Mr Gallagher, Miss Nugent, Mr Presley and the Headmaster, Mr Whiting.
I have good memories about most of the teachers but Mr Presley was very stern and dented my confidence hugely. Miss Nugent and Miss Bowyer were both lovely. Miss Nugent joined in about 1961 and played the paino in assembly. Mr Brooks taught music and played paino too and I think he ran the choir – which I managed to join for the last year p perhaps he let me in from sympathy. I remember that some boys in our class wrote a school song – that would have been in 1963 I think. I believe Gerald was one of the writers.
Mr Gallagher took sports lessons and I loved playing rounders. I wasn't ever good at sport though – teachers always thought I would be good at running and at the high jump, because I was very tall- the facts never bore out these hopes. I thought I did well if I came in 2nd last instead of dead last!
I was in Miss Clifford's class for 2 years and we all did very well with her as our teacher. So much so in fact that we were way ahead in most things, which meant a lot of things were repeated when I went on to Knoll Secondary Modern. Only Linda Glanville and I went to that school as everyone else either went to Hove Grammar or Mile Oak. I passed my 11+ but my mother didn't want me to go Hove Grammar as she thought my sister had too much stress there. I agreed at the time but regretted it later.
Learning to dance
We girls learnt to dance – the waltz etc and had to partner each other. Once again my height came into play and I always had to lead – which has caused me problems ever since when waltzing. The only time it went really well was when I danced with my brother, Stephen – he probably let me lead! Later, he took dancing lessons so he could dance with his bride at their wedding – she was a very, very good ballroom dancer and competed. After that Steve and I ceased to be good dancing partners.
My brother and me
My brother went to Benfield as well but only for a short time. He was 9 years older than me and we only moved to Portslade in 1953. Steve might have had 2 years at Benfield, possibly just one – he then went to Mile Oak Secondary. I have a photo of us both in our respective school blazers but I may have still been at St Nicholas Infants. I am not sure which school Steve was attending and cannot make out the badge well enough to tell.
The memories of Benfield are mostly good and I think it was a very good school but such opinions are always subjective. They are planning a reunion in 2009. Hope this stirs some memories for others and look forward to gaps being filled in and errors corrected. Perhaps some extra memories may be added too.