Formerly the Municipal Technical College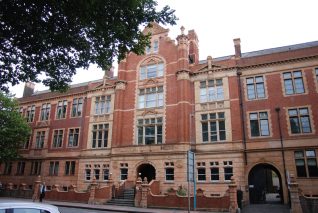 Please note that this text is an extract from a reference work written in 1990.  As a result, some of the content may not reflect recent research, changes and events.
Brighton College of Technology, formerly the Technical College, has its origins in the Brighton School of Art and Science which opened, as an art school only, in the great kitchen of the Royal Pavilion in 1858. In 1874 it was joined there by a new science department, but the whole school moved to a new Italianate building by John Gibbins at Grand Parade in 1876. The corporation took control of the school in 1892, and removed the science department in 1897 to a new, Renaissance-style, red-brick and terracotta building at Richmond Terrace which was formally opened as the Municipal Technical College by Princess Louise and the Duke of Fife on 8 January 1898. The new college was enlarged in 1906 by the addition of a mechanical workshop, and the adjoining teachers-training premises, which had been erected in 1909, were incorporated as a north wing in 1927. The south wing was added in 1935.
In the late 1960s the Technical College took over the York Place Schools, and a new eleven-storey block was opened at Pelham Street in January 1971. In 1984 the Technical College was renamed Brighton College of Technology. There are annexes at Francis Street, Hanover Terrace , Preston Road , Stanmer Park , and at School Road in Hove , and in 1989 there were about 1,400 full-time and 7,500 part-time students.
Any numerical cross-references in the text above refer to resources in the Sources and Bibliography section of the Encyclopaedia of Brighton by Tim Carder.
The following resource(s) is quoted as a general source for the information above: 26,83,115,123
Updated information:
Brighton College of Technology has been known as City College Brighton
and Hove since 2001.
Situated in the heart of Brighton, City College Brighton and Hove has
become an international centre of vocational excellence. Every year
2,000 full-time, 10,000 part time, over 500 Higher Education and 250
14-16 year old students as well as many international and European
students choose City College as their place of further and higher
education training. In addition, the College provides training to over
2,000 businesses via its 'City Business Skills' department which
focuses on employer training needs. Offering over 700 courses from basic
level right through to business and postgraduate training, City College
is working with its partners to develop the workforce of the future.