Imitation stained glass window 1951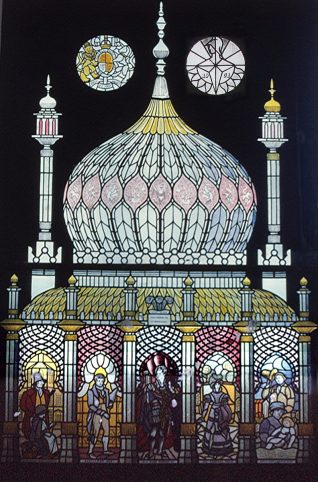 From the private collection of Frederic M Avery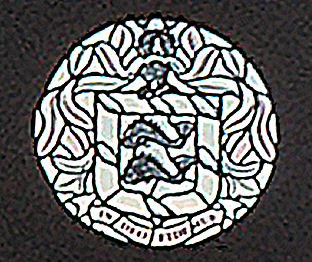 From the private collection of Frederic M Avery
Made by students
I was a student at the school from 1952 to 1956, and went on to obtain my Diploma in Building at the Brighton Technical College in 1959. I have recently found my slide collection which included the imitation stained glass window at the secondary technical school for building and engineering in Hanover Terrace Brighton. The window was made by students under the direction of art teacher Mr.McKinley in 1951 to commemorate the Festival of Britain.
Depicted famous figures
The window measured 6 feet wide by 12 feet tall and built in two sections each 6 feet square. The window was constructed of two sheets of plate glass between which were black patterned cut outs representing the royal pavilion, four famous figures and in the centre – King George 1V (formerly Prince Regent). The coloured parts of the window were made with cellophane pieces cut to the required shapes.
Modified in 1952
In 1952, the window was slightly modified to include Brighton's Coat of Arms in place of the Festival of Britain symbol. The figures in the archways beneath the dome are from left :- Phoebe Hessel; Johnny Townshend, Gentleman 1804; H.M.King George 1V (centre), 1821 Carriage Dress, and lastly Martha Gunn and 'smoaker' Thomas Miles.
Can you help?
Before the school was demolished, the window was carefully dismantled and removed to Pelham Street College with the intention of re-erecting it, but I doubt if this was done. If anyone has any information as to what eventually happened to the window, please leave a comment below.