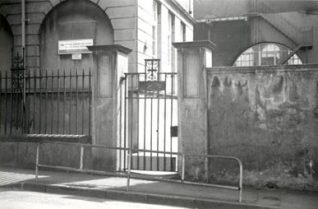 Sarcasm and English
I have vivid memories of some of the staff. The school secretary, was it Mrs Pratt?, was in charge of the stationery cupboard. All exercise books were only replaced by her after she had checked and cancelled the teacher's approval signature in the ink-stamp box that was on the inside of the cover.  Mr Walsh, with his thick, tweed trousers, taught us sarcasm as well as English with his comments about our hairstyles and our behaviour. Mr Hobden [maths] was rumoured to have been a rear gunner in the war. 
Did you attend this school? Share your memories by posting a comment below
Intensive teaching
Monsieur Bear was certainly the holder of the Croix de Guerre, though he never talked about it. I remember when we had to cover all our textbooks in brown paper. He used to pick up a pupil's poorly covered book, pull off the offending cover and proclaim "What is this? Fish and chips paper?" He had a system of intensive teaching half the class at a time while the other half was in "the cemetery" around the edge of the room, silently doing set work. 
A legendary hitch hiker
Mr Huddart J.P. was there in our first year and we hardly dared breathe without permission in his geography lessons. He used to enter the room, unlock his cupboard, take out a cushion, put it very deliberately on his chair, sit down and then commence the lesson. Mr Weedall was the P.E.teacher in our first year; I met him years later sailing around the Solent. Jock McGregor was our P.E. teacher for the rest of our time. He became a legend on the school holiday youth hostel trip to Scotland. On the section from Aberfoyle to Inversnaid on Loch Lomond we had to hitch-hike. Wearing his kilt, he just sat on a wall and waited. The very first car simply stopped and took him all the way.