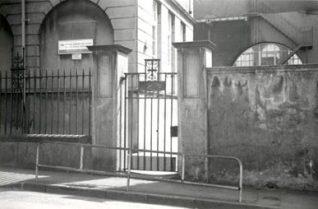 The Clayton tunnel incident
I have many fleeting memories of my schooldays. Others may be able to verify the story of the time the "train boys" were exceptionally late and the story was that someone had stuck their head out in Clayton tunnel with the inevitable result. I remember the swimming club after school at North Road Baths; speech day at the Corn Exchange and the Carol Service at St. Peter's Church. There were lunchtime trips to Hammond's model shop just up the Lewes Road; times watching the slum demolition, done with a wrecking ball, at the bottom of Richmond Street and down to The Level to go on the swings and the roundabout.
Trolley buses and the Palace Pier
I remember watching the trolley buses at the bottom of Elm Grove, have their poles come off the overhead wires as they swung round the corner. The driver and conductor would have to extract the long bamboo pole from under the bus to try to hook the trolley poles back on again. There were games afternoons on hot summer days; cycling from school to the beach at the Palace Pier and cycling to East Brighton Park for games. In winter, in the top year, rugby was at Withdean Stadium with the luxury of hot showers. Mick Apperley, Sid Gregory, Roger Bennett and myself were in Brighton & Hove Wheelers. This involved Wednesday summer evenings at Preston Park track as well as time trials early on Sunday mornings, also training rides and club rides.
Remembering friends
Somehow, in spite of all these activities,we still did homework. Some names from our year; Keith Maddock, William Housego, Chris.Warren, Robert Fairs, Collins, Gaskin, Elleker, Virgo, Bates, Avery, Stevens and Hibberd. Names from other years were Robert Knight, Tony Stone, Graham French, Parsons, King and Michael Tibbs. I became reacquainted with Michael Tibbs many years later when I found I was teaching his children, because a teacher is what I became after my years at "The Tech".