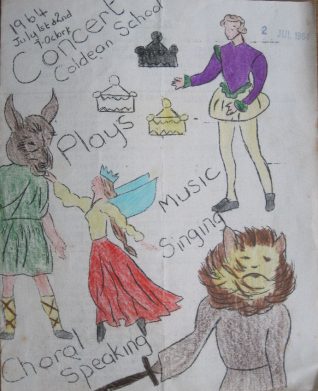 From the private collection of Roger Wilson
400th anniversary of Shakespeare's birth
1964 was the 400th anniversary of Shakespeare's birth and Mr. Burrows, the headteacher who loved music, encouraged the whole school to become involved in a celebration concert.
Everyone was involved
There were songs by the choir, music from the school violinists and recorder players, 4A did the casket scene from 'Macbeth', 3A performed some choral speaking using texts from 'The Merchant of Venice', 'Julius Caesar' and 'Henry V'. 3B performed the Pyramus & Thisbe play from 'A Midsummer Night's Dream'. Even the Infants were involved in the concert, performing the Fairies' Scene from "A Midsummer Night's Dream".
Do you remember? 
Were you at the school when this celebration concert was staged? Maybe you were one of the performers? Please share your memories by posting a comment below.