Fond memories of the 1930s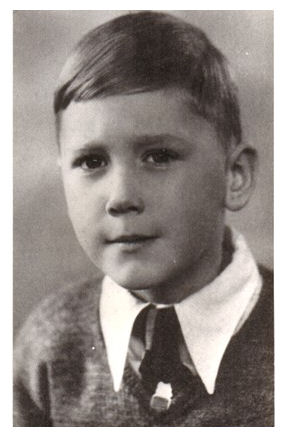 Photo taken by Jerome in Western Road: from the private collection of Kenneth Why
I was admitted to the school in 1933 at the age of 5 and enjoyed it. Miss Haffenden was in charge but the dominating teacher was Miss Wigmore, who took on all comers to the extent when my Mother visited her to make a complaint she replied,  "You would not expect me to visit you on a Monday morning to tell you how to do your washing, so leave the teaching to me!" My Mother never forgot and her son became a teacher!  
Miss Porter made an impression
The next teacher who made an impression on me was Miss Porter, a mature lady, grey hair tied back in a bun, and long flowing silk dress. Her speciality was copper plate handwriting, and I dare say my love and practice of calligraphy grew out of this. Incidentally I still have my school reports of this period; I suppose they should belong in someone's official archives now?  
Miss Renno's flowing dresses
Later on it was off to Miss Louise Renno in the Junior Mixed Department. She too wore long flowing dresses and spent her time in a cute little study up the staircase, opposite the side-entrance to the school. She regularly had each one of us read to her, so we were known to her as well as to the other teachers. She had a shelf on which was a collection of wooden carvings brought back each year from the Austrian Tyrol, where she spent her holidays. Did she, I wonder, have relatives there or was it an annual tryst such as I have known others keep? 
Teacher's vocational sacrifice
If they loved teaching, ladies had to sacrifice marriage in those days, in order to fulfill one's vocation – what a stupid waste! Staff names which roll into my mind were Miss Richardson, Miss Cowton, Miss Kenward, Mr.Patchin, Mr. Urquhart (we mutually disliked one another, I can't think why). But I acknowledge he made the most extraordinary puppet theatre and created the characters to populate it. He it was who introduced me to Pinocchio. 
My great hero 'Dick' Webb
I suppose the great hero was 'Dick' Web of IVA who few in Brighton from my generation have ever forgotten. My favourite lesson was music when he would sit down at the piano and we would sing Gilbert & Sullivan songs such as, " By a tree in a meadow a little bird sat, Singing willow-tit-willow-tit-willow, and then the next line at which we all giggled , "And I said to him dickie bird why do you sit, singing willow-tit-willow –tit willow?" We remained friends whilst I still lived near Brighton in the 60s and 70s. 
As seen on the 'Antiques Road Show'
Miss Richardson, a friend of my father, taught me the Flamborough Sword Dance at the end of which, if all had gone according to plan, one of the dancers held aloft a lattice work of wooden swords which the dance had woven in its course. She was also an excellent needle woman, and when I went to Patcham Secondary as a pupil teacher there she was to welcome me in the staff room. My final glimpse of her was on the 'Antiques Road Show' when my wife thought I had gone mad as I was jumping up and shouting "There's Agnes Richardson!"  
School party at Christmas
Christmas was always good for a school party with Mr. Box, the local philanthropist, climbing into the Hall by way of one of the ground floor windows, complete with Santa Claus outfit and sack. It was in that Hall where we performed our plays; my memory is of being a Chinese gentleman with a plait which hung down at the back in a piece called "Willow Pattern Plate".  
Visiting speakers
Mr. Challis, of Brighton Schoolboy Boxing also used to pay us a visit from time to time. I remember the visits too of a Scot, named Mr. Watters, who advised on our Physical Education. I gather he once got a very rough reception at PrestonRoadSchool – someone else may know the full story, but it was ruled by a tyrant in those days. Eventually those idyllic years of creating raffia place mats, weaving woollen rugs, lino cuts and water colours had to end.