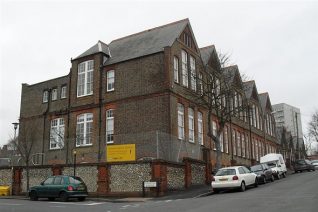 Wikipedia Commons: Photographer - Hassocks5489
Lessons in the air raid shelters
I started in Miss Haffenden's Class in 1941 and was at Ditchling Road School till I was 11 years of age. I remember the Air Raid shelters under the playgrounds; steps going down to a thick black material curtain in front of a door. Inside there were ceiling lights which did not give a good light. Blackboard was on the left hand side of the wall and wooden forms in the front. We left our classrooms when the siren sounded and made sure we were safely down there when the 'Pips' sounded.
Dried milk powder from Canada
If the 'All Clear' had not been given when it was time to leave school we had to wait for someone to collect us. I was mostly the last to leave as my mother worked, and it took her time to come from London Road. Sometimes after a raid we would come up from the shelter to see streams of silver paper that had been dropped by the aircraft covering the playground. We had to take a jam jar to school to collect a flavoured milk powder that was donated by Canada. You mixed it with hot water and made a milk drink.
Still have my school notebooks
I remember that an incendiary bomb fell on the Junior School, but I do not remember the date. Resources were thin on the ground and so exercise writing books were cut in half. Actually I still have my sums book and my writing book, complete with doodles of a battleship and planes. Times were austere, but I remember my time at Ditchling Road School as very happy.