Remembering Mr Mouldy Lemon, 1930s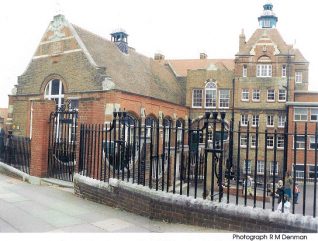 I commenced schooling when I was just past four years of age. One of the boys I met on that first day has remained a friend of mine ever since, and there are quite a few of my old school friends still living in the district.
Elm Grove School at that time was divided into the following sections: Infants, Junior, Mixed, Senior Boys, Senior Girls. The Headmaster of the Senior Boys was a man named Mr Mulrennan and was known by the pupils as Mouldy Lemon.
Elm Grove School was built in 1893. Pupils who reached a high standard in the 11-plus examinations went on to York Place Schools, which were the forerunner of Varndean Sixth Form College. This rule applied to all elementary schools in the Brighton area. Some who were successful were unable to take advantage of this opportunity as their parents were unable to afford the necessary uniform or support them during their stay there. With the opening of the Varndean schools the system changed. I think this was in 1928. York Place Schools became the Brighton Intermediate Schools for both girls and boys. It was a sort of half-way stage between the elementary schools and Varndean School. I attended this school from 1931 to 1935.