Learning the social graces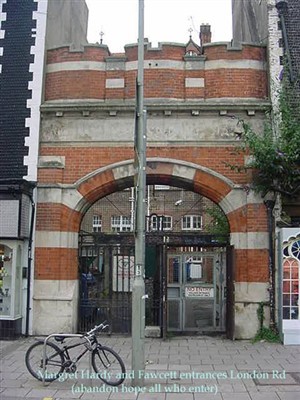 Brave boys requested a dance
In my final year at Fawcett School, in 1964, a series of dances was organised in the main hall of the school. These dances were formal affairs at which boys sat on one side of the hall and girls on the other. I imagine that the girls were from Pelham School – next door. Boys who were brave enough, crossed the floor to ask a girl to dance, once the music started. 
A process of socialisation
These did, I  suppose comprise a 'finishing school', where boys and girls were finally given some training in how to behave with the other sex. They were part of being socialised into the outside world. That socialisation did not  of course, extend to gay couples as such things couldn't have been imagined in those days.
A memorable occasion
What most of us enjoyed, though, was access to local rock bands. I guess that almost none of us had heard live music of this sort before. And it was the beginning of the period in which blues music arrived in the UK. I suspect that some of the band members read the pages of this site. If they do, I wonder if they could give anymore information about these dances and about the bands.
My first girlfriend
These dances represented a very real softening of Fawcett School attitudes. It demonstrated, at last, that the staff could imagine what senior students would like to do with their time. For me, at one of the dances, I met my first girlfriend.
A memorable occasion
Once, on the day of the dance, someone had hung a condom from the top of the climbing frame on the wall. The deputy head master and another teacher were seen staring at it, probably wondering how to get it down. I imagine that a discrete word was given to an athletic student to discretely shin up the frame and remove it.