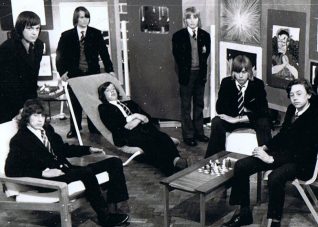 From the private collection of Derek Mann
A Facebook page started 2011
In December 2011 I started a Facebook site 'Knoll School for Boys'. I started it mainly to get more photos and information from my time there 1972 to 1976. But over the last year it has gone way past that and there are more photos and memories from the 50s & 60s than the 70s. That's a good thing as with this site and other sites the more information and shared memories out there the better. So please check it out and share your memories with us.
5th Form in 1975
The photograph here was taken in 1975 of a group of the 5th form (year 11 in 'new money') in the main hall where assembly used to be held every morning. It features works of art from Mr Smith's and Derek Cooke's art classes and I am in the centre right look studiously at the chess board. Other fashion victims of the era include Billy Slaney behind me looking like a cat in headlights, Keith Saunders leaning over the chair to the far left of me and other dubious individuals who may see and read this and get in touch or wish to add 'names to the frame'.
If you recognise yourself, or anyone else, or can share your memories of this time, please leave a comment below.