School memories of the late 1960s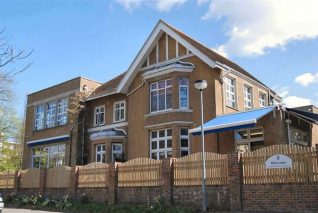 I was nine years old when I started at Lourdes Convent in 1966 and I left just before it closed about 1970. There was a long drive leading up to the school, with the main convent and senior school on the left and the junior school and kindergarten on the right. When I started the kindergarten had boys and girls but the rest of the school was girls only.
Sixth formers in a hut
The 6th Form was a hut in the playground west of the convent and the 1st year seniors were in a large double hut east of the convent on the other side. The hut was still there in the 1980's when I returned for a school reunion. The other senior classes were in the main convent. The convent accepted day girls and boarders. The boarders would have their dinners in a separate dining room to the rest of us.
Sporting activities
The senior and junior schools each had their own playgrounds and playing fields and they shared the tennis/netball courts. The highlight of my time in the junior school was when they purchased a large trampoline that during the summer months we had outside in the garden, I think we called it a garden as it was more like a garden with an enormous tree in the middle, whereas the field in the seniors was more like a field, just a large open grass space, at the back of the school. Sometimes I would use the back entrance that led into Cornwall Gardens to walk home with a friend.
The tuck shop
I remember the junior school having a tuck shop and just before morning break we would buy crisps, then go into the playground to play, some of the games we played were cats cradle, hop scotch and French skipping.
Strict rules on uniforms
Our uniforms were navy skirts or tunics no more than 2 inches above the knee, it is just my imagination or do I remember one of the nuns with a measure having us all line up? Pale blue blouses, navy and cream striped diagonal tie, navy V-neck cardigan or jumper with blue and cream stripe round the bottom edge and cuffs, navy raincoat, navy blazer with braiding round the edges and a navy felt hat.
We hated our boaters
In the summer we would wear a grey and white striped dress, if I remember rightly the stripes were horizontal for the top part and vertical for the skirt part, and of course our blazer and a straw boater. Many of us hated the felt hat and boaters and took them off as soon as we were off school grounds, but if someone saw us and reported it to the school we would get a good ticking off.