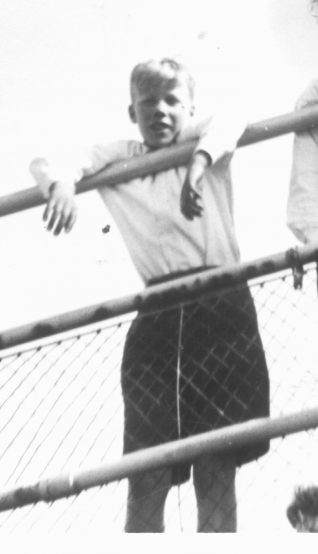 From the private collection of Fred Ricketts
Nine years old in 1954
I was sent to the Mile Oak School from London in 1954 when I was nine years old, and was there for three and a half years, Any letters that I received from home were always addressed Mile Oak LCC school. I think it was called that because the London County Council sent naughty boys there. I know that it was a fantastic building and why it was ever pulled down I do not know. I think that maybe we could do with more schools like it today. I certainly never got into trouble again after I left there.
Remembering the teachers
When I was there the houses were called 1 and 2 on the west side, and 3 and 4 on the east. I was in dormitory 2, the Housemaster was Mr Montgomery.  The best teacher there was Gilbert Wilkes, he was the PE teacher as well. I also remember Mr Shaw, he was the science teacher, a great old man with his stories, and Mr Wilson who taught music. Other teachers were Mr Stevens (Lippy], Mr Fordham (Woody), Mr Inwood (Boney) and of course there was Matron Harvey (Molly). The head master was Mr Kane, always sucking on his false front teeth.
Church on Sunday
I remember the green Bedford bus took half of us to church every Sunday, the other half walked and then got picked up along the way. I remember the allotments where we grew carrots, spuds and onions, the couple of rabbit hutches, the covered air raid shelters, football on the back field, cricket on the front field. There was dancing with the teacher training women, and the Devil's Dyke trips and the trips to Wynham fishing. I would love to hear from you if you were there at the same time as me.