The late 1960s to early 1970s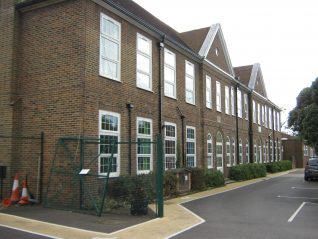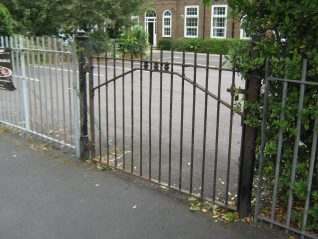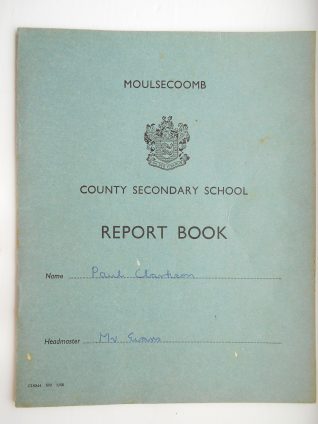 Original building in 1929
Moulsecoomb primary school was built in 1929 and then extended over the years. The entrance to the infants was from Hodshrove Lane and the juniors was from Hillside. The main building on the Lewes Road came next and was the secondary school for over fifty years before it became part of the primary school. My Mum and Dad both went to the school in the 1940s as they lived on the estate.
Some classes in 'nissen huts'
While I attended a new hall was built which took up half of the girls' playground. This unfortunately meant that the girls had to go through the boys' playground every morning, and on snowy days had to run the risk of being pelted with snow. There were additional classes in buildings similar to nissen huts, which were situated behind the school going up towards the primary schools. 
My off white shirt
I went there from 1968-1973 when the Headmaster was Mr Evans, a rather fearsome chap nick-named by the pupils as 'Streaky' although we never knew why. The teachers were very strict and the cane and slipper were readily used to instill discipline. Detentions were given out for bad behaviour, lateness and poor work. We mostly did as we were told and if you didn't then there was hell to pay, even worse was being sent to see Mr Evans. I once wore a slightly off white shirt and my teacher deliberately sent me down to the office with the register, so it would get noticed by Mr Evans. The relevant punishment was to be sent home to change and make up the time after school.
Did you attend Moulsecoomb Secondary School? Share your memories by posting a comment below.
Wide open spaces
We were very lucky to have the wide open spaces around the school for break-time and sports lessons. I loved playing football and we used to play on the field between Moulsecoomb Way and Hodshrove Lane. On a cold day the wind would cut you in half and as the ball was usually of the old style leather with laces you didn't want to get in the way of it too often.
Remembering teachers
The teachers I can remember were Mr Widdup, Mr Bear, Mr Rex, Mr Drakeford, Mr Nix, Mr Leckie, Mr Catchpole, Mr Gregory, Mr Merritt, Mr Peskett, Mr Hindmarsh, Mr Stockbridge, Mr Homer, Mr Tiller, Mr Welch, Mr Hargreaves, Miss Cowl, Miss Dawson, Mrs Merryfield, Miss Mitchell and Miss Dixon. My Mum was taught cookery by Miss Neat in the 40's who was still there in the 60's to teach my sister.