Patcham Seniors - Class photograph 1958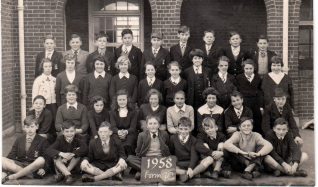 Private collection of Ben Breeds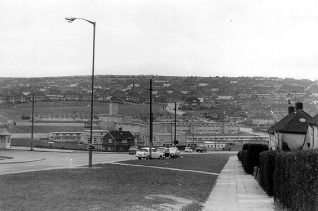 Carden School, Hollingbury c.1968. Photo by Martin Nimmo
I went to Patcham seniors in 1958 having been to Carden School since I was 9 years old. The change from juniors to seniors was daunting, as was facing the teachers for the first time, but as time went on they were not so bad. Mr Mann was one of the good ones and I got on very well with him, one reason was because I loved sport , and he was the sport master. I was so proud when I was chosen to be the leader of "B" team on the outward bounds course at Burwash.
The scarey Mr Ingham
I remember Mr Cresswell who took woodwork, I learnt a lot from him and all the knowledge I gained, helped me through life. The feared teachers were Mr Ingham who took science, he stood behind at the back of the classroom and when anyone was caught talking his cane crashed down on the desk, just missing their finger tips. When I left school I saw him at the bar in the Ladies Mile pub and told him that he was scary and very frightening, but he replied "Did you learn about science Breeds." I nodded. and he replied well then I did a really good job then didn't I, so get the drinks in lad." So I got the drinks in and smiled, he was right.
The people in the photo I will name as many as I can remember
4th row- (2nd from the left) Ian Jefferies. (3rd from the left) Stephen Bartlet.
(5th from the left) Is me. Ben Breeds.
3rd row-(2nd from the left) Linda Ruff. (4th from the left) Lorna Green.
2nd row-(1st from the left) Michael Pope. (4th on the left) Sheila Pratt.
-(4th from the right) Sandra Wenham. (3rd from the right) Marjorie Hollow.
1st row- (3rd from the left) Raymond Drake. (4th from the left)Brian Laine.
(1st from the right) John Language.
If you see yourself, or recognise someone in the photo, could you please post a comment below, I will be looking forward to your remarks. Thank you.