Childhood memories of a lovely village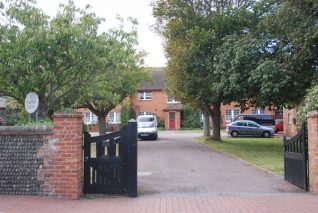 Journeyed by bus on my own
I attended Rottingdean Infants and Junior School from about 1956 until 1961. I then attended St. Martha's Convent there for a short spell. Although living in Kemp Town Brighton, I made the journey to Rottingdean by bus there and back, on my own every day, after the first couple of mornings when my mother accompanied me there. I can't imagine being able to send any child of this tender age off on their own today. I would get off the bus at the top of Neville Road and walk down to the school at the bottom.
Freezing Victorian buildings
There was a Children's Home at the top of Neville Road, and some of these poor little children used to attend my school. I made friends with one particularly sad little boy from there, whose own plight made me more aware at a young age of appreciating having a secure home and family. I remember the very Victorian buildings of the infant school which were absolutely freezing in the winter, with the cast iron stove at the front of the class, carefully fenced in with a cage. One would hardly manage to thaw out all day and I can remember one little girl crying because her toes and fingers were so frozen.
Horrors of outside toilets
I remember the horror I experienced, when I was first introduced to the outside toilet building, where a row of tiny toilets stood side by side with no privacy, and where you had to ask for toilet paper on the way outside, if it might be needed. We sat on rubber mats on the floor for lessons, and I remember one enterprising boy who took delight in picking bits off the rubber mat and pushing it up his nose, much to the consternation of the teacher.
Tepid lunches in the village hall
Lunch was taken at the village hall every day, which involved the pupils being herded in a single file down the very narrow pavement of the main street. The revolting [to me anyway] food, came in huge aluminum containers cooked elsewhere, and served out to us in a tepid state. Some of the children obviously appreciated this semi hot meal, but sadly I found lunch a terrible trial of endurance each day.
The terrifying Mr Darlow
I was chosen to play Red Riding Hood in the school play of 1957, and have a lovely photo of the whole cast. I believe that the Headmaster, Mr Darlow, was at that time living in a house attached to the old Infant School, and his reputation went before him. We were all terrified of him by reputation, before we had even started attending the Junior school. The Junior School in Whiteways Lane was a very modern building indeed. It had lots of lovely grounds most out of bounds to us, except nearing the Withdean sports day, when suddenly Mr. Darlow would show a sudden interest in finding pupils with sporting prowess and we would be allowed on the school fields for a short time.
Beauty of the countryside and sea
Mr Darlow's real passion was music and as time went on. his exasperation at our inability to sing and play the recorder, to his high standards, knew no bounds. After breaking numerous batons on several occasions, he resorted to conducting with a long window opening pole and would flay it around over heads and poke unwary shirkers. I believe most of us did live in perpetual fear at that school, however the exuberance of youth cannot be put down and I do have many happy memories of friends and the freedom we did enjoy after school in such lovely surrounding of countryside and sea. I often spent some of the bus fare home on sweets and would walk part of the way home along the cliffs. I am so glad that I did have the opportunity to attend school in such a lovely village.