Juniors: Memories of the 1960s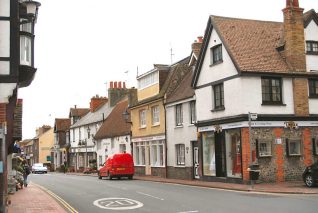 Loved the order and routine
I was at Rottingdean Junior School from 1965 until 1970. The teachers I remember were Mrs Brown and Mrs Killick in the Infants and Mr Lewis, Miss Hilton and Mr Rowland in the Juniors. I just loved the order and routine; assembly every morning with a psalm and a hymn, attending Church for Saints Days and Easter and Christmas. At the end of playtime, the whistle would be blown and we would instantly stand still and be quiet. On the second whistle we would run to our line, painted on the ground in the boys playground. "Attention! Right turn! Lead off!" And line by line we would march down into the cloakrooms.
Our badge had a windmill
Everyone wore school uniform with the badge of the windmill on the pocket and the girls berets had tassels which always seemed to fray. There was the outdoor swimming pool which seemed to be quite large to a child but I suppose was really quite small. The playing fields were enormous, one for the girls and one for the boys; sports days were always held on the boys' as it was flat whereas the girls' field had a slope. In the winter we were only allowed on the playground and seemed to spend every playtime skipping in large groups, seeing how many girls could skip together in one long rope.
Prayers at the end of the day
At the end of every school day, every teacher would turn on the speaker in the classroom and Mr Darlows voice would come booming out to say a closing pray to all before we were dismissed. Mr Darlow taught/tried to teach us singing in the hall, he played a baby grand piano and when he got cross he would remove his tie, roll it up and throw it onto the piano. Sometimes it would roll off the piano onto the floor, woebetide anyone who dared laugh.
Looking back I was lucky
Mr Roland had a 'knuckle-rapper', a wooden ruler covered with sellotape with which he would sharply rap the knuckles of anyone who misbehaved in any way. Mr Lewis gave out paper butterflies to those who were good; those who weren't had to stand in the corner or on a chair or even on a table, quite frightening for a child. Miss Hilton taught country-dancing in the hall which had a painted mural of Noah's Ark and all the animals on the back wall. Looking back, I feel I was very lucky to have been able to attend such a school.