A Cartload of Villains - Another cast member.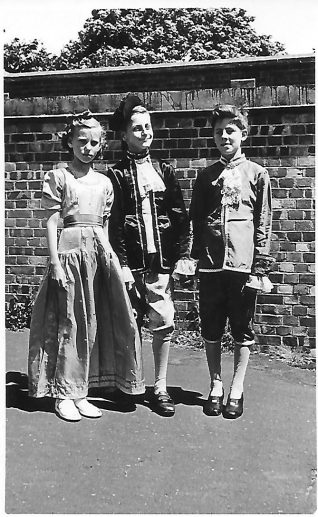 From the private collection of Tony Betteridge - click on image to open a larger version
A Cartload of Villains
This photograph shows Christopher Cotton on the right who played the character Prince Guy in one of the performances, but who was not in the main cast photograph because there was only one costume for the character. The other two in the photograph are Valerie Ayling and Tony Betteridge.
Happy and carefree time
As Barry Flahey has observed, it was a happy and carefree summer.  We had taken our 11+ exams and were being prepared for the big move to our new schools, but the excitement of the work on the school play which involved almost everyone at the top end of the school gripped everyone. 
Days of food rationing
We were still in the days of food rationing, days when socks were darned, shirts were patched, worn collars reversed, blakies were hammered into shoe soles to make them last longer and bread and dripping was a treat when you got back from school.  As children we were content with our lot, neither demanding anything from our parents beyond what we were given nor feeling jealous of others' small possessions.
Saturday morning 'pictures'
It was that summer when the comic "Eagle" was launched.  Several of us liked to go to the Saturday morning pictures at the Odeon cinema in Hove.  This was a performance specially laid on for children and cost 6d to get in.  We would get the train at Portslade station and get off at Hove.  The Odeon in Hove (demolished long ago) was a huge art deco style cinema and, I believe, seated about 2000 people.  It was situated just beside Hove station. 
A vision of the future
Apart from the main film there were always short cartoons and music from the theatre organ which we had to sing along to.  On a particular Saturday that summer there was a presentation in the middle of the show with slides showing pages of the "Eagle". People dressed as Dan Dare, Pilot of the Future and the Mekon then handed out free copies of the first edition to everyone there.  For those of us whose comic reading was restricted to "Dandy" and "Beano" it was a big moment and when our minds started to focus on visions of a future when machines would take over the world and man would travel to the stars.  I believe that my first edition of "Eagle" and the collection that added to it I swapped for some good postage stamps with John Comber.