Cornwall trip 1966 - Barbara Hepworth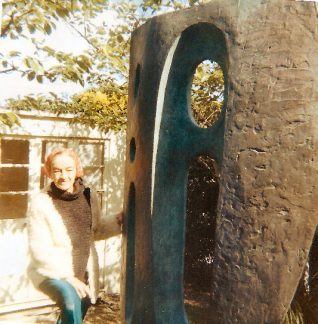 Photograph by Rob(Bob) Tasker
Meeting Barbara Hepworth
At Stanmer Secondary Modern school, one of the four "houses" was called Hepworth after the famous sculptress Barbara Hepworth. I was vice-captain of Hepworth & during the school trip to Cornwall in 1966 a trip was arranged to meet Barbara Hepworth at her home in St. Ives where she had some of her work in the gardens.
An exclusive holiday snap
Hepworth's home is now a museum for her life and work. I have a clear memory of asking her if I could take a photo of her with one of her works. The photo you see here was the result.
Times change
We all stayed in Newquay at an old Victorian hotel and I remember trips to the tin mines. I also remember getting separated from the main party. When reunited with them the formidable Miss Harvey gave me a hefty slap around the face. She certainly would not get away with that today.