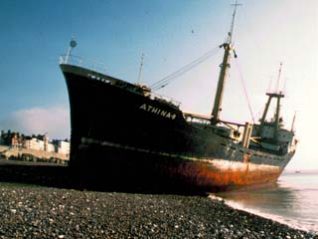 From a private collection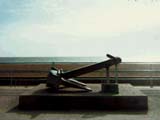 From a private collection
The Athina B, a Greek cargo ship, ran aground on the beach just east of the Palace Pier, in front of the Aquarium on January 21 1980. She'd set out for Shoreham from the Azores on December 11 1979 loaded with 3,000 tons of pumice.
Shoreham lifeboat to the rescue
On arrival at Shoreham, heavy seas and force 7/8 winds prevented her entering the harbour. As the weather deteriorated, she drifted eastwards. The Shoreham lifeboat rescued the captain's family and half the crew in the morning, and the ship survived the pounding of mounting seas during the day.
Scrapped at the Medway
At 9.15pm the captain and remaining crew were rescued, after which the boat ran aground on the beach. She was declared a write-off and remained on the beach for a month before being re-floated and towed away to a Medway scrapyard, near Rainham.
A commemoration
The shipwreck of the Athina B is commemorated by its anchor, which is on the seafront near Palace Pier.