East of the Banjo Groyne, 1930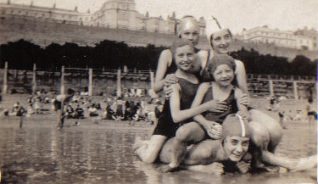 From the Private Collection of Les Roberts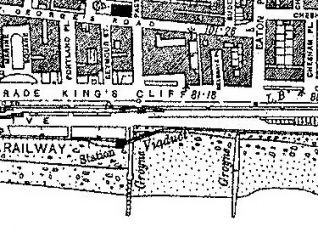 1930s beach photographs
The recent mystery photograph of bathers on the beach, which can be seen here, which was  taken in the 1930s, reminded me of a similar one I have of the same area and the same period.  The photo is from Les Roberts' collection (apologies for the quality of the image); prior to WWII he lived nearby in Chesham Place, and you can read his story of the Bombing of Chesham Place here.
Playing on the beach
The photo shows Les' sister Eileen Roberts and her friends playing on the beach to the east of the Banjo Groyne around 1930. Eastern Terrace can easily be identified in the background; so can the viaduct that carried Volks Railway on this section of the line above the beach, east of the Banjo Groyne.  Of course since the 1930s the beach has been built up by the drift of shingle and is now much higher.
The introduction of groynes
The beach below Marine Parade sea wall was originally much lower; with the introduction of groynes to protect the coastline, shingle began to build up. So much so, that the west end of Madeira Drive was formed sixty feet wide around 1870. The Banjo Groyne was built in 1877. Shingle continued to accumulate and by 1889 a bowling lawn was constructed. In 1895 sea wall construction eastwards, enabled Madeira Drive to be extended from the Banjo Groyne and up the slope, Dukes Mound, to connect with Marine Parade. Madeira Drive was widened again in 1898 to one hundred feet, and finally in 1905 tarmac was laid for a race meeting held by the Automobile Club.
High/low water lines
The OS map of 1932 shows both the high and low water lines.  It can be seen that even in 1932 at high tide the sea to the east of the Banjo Groyne came right up to the new sea wall, which had been built in 1895 to extend Madeira Drive eastwards.  It also shows the viaduct that can be seen in the background of the photograph of the happy young girls.