Playing at being statues, 1990-99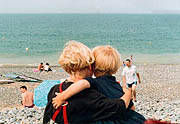 My name is Hazel Imbert and I lived in Rugby Place from 1990 to 1999. This period saw the birth of my two younger children. The childhood memories of all four children are bound up with Brighton.
At the corner of the wall in front of Arundel Terrace, where it meets Arundel Road, there is a plinth where we used to stop on our way to and from the beach. Each of my four children took it in turns to stand on the plinth like a statue. We had to "put a penny in" to animate the statue.