A rude parrot and Black Rock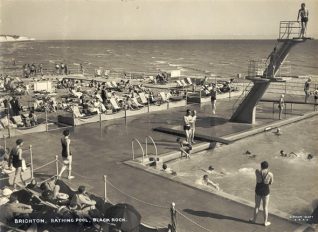 Royal Pavilion and Museums Brighton and Hove
So many happy memories
What are my memories of growing up as a kid in Whitehawk? I have lots of them – it was a great time for me. What about the cobblers in Whitehawk Road? It was a tiny shop next to the post office. The front room was the shop, the whole place seemed so tiny. I remember Smiths the bakers – always a great one to warm up on the way to St Mark's school in the morning. Of course there was the pet shop in Bristol Gardens, run by a couple of chaps with the parrot who said rude things.
Do you have Whitehawk memories? Please share with us by posting a comment below
Bunking in at Black Rock
I have happy memories of skirting around the rocks at Black Rock to get into the swimming pool. A whole day would be spent sunbathing and swimming. We would take jam sandwiches in a Sunblest bread wrapper and a bottle of diluted orange juice. It was alright until the brown shrivelled chap who seemed to live there, would tell the lifeguard we had sneaked in without paying – just to be nasty. And who was that guy some said was an Olympic swimmer – so good at diving – who always caught us bunking in? Great days never to be forgotten.