Brighton and Rottingdean Seashore Electric Railway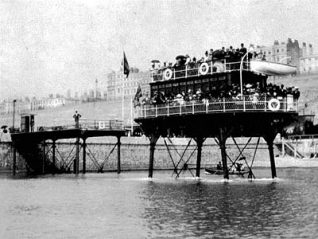 The Brighton and Rottingdean Seashore Elecric Railway, the so-called Daddy Longlegs railway, was built in 1896. This was a proposal by Magnus Volk for a railway that ran along on rails underneath the sea for about 50 to 100 yards offshore, from where his existing electric railway finished all the way to Rottingdean, where it was connected to a pier. The tramcar ran on stilts that were about 24 feet above the sea bed.
It was quite luxurious
The single car, called the Pioneer, was essentially an open deck, above which was an inside car which was quite luxurious and had leather upholstered seats. Above this was an outside deck with slatted seating, rather like you'll find on a liner. The power lines then came down from above that.
Operated by a trained sea captain
Because it was travelling over the sea, the only way the Pioneer could obtain a licence was to have a trained sea captain actually operating it or being available at all times. He knew whether the sea was safe to travel over. The Pioneer had to have a lifeboat on the back and a number of lifebelts round the edges so that if there was a problem people would be able to get away. In effect, it was treated almost as though it was a ship.
Ceased operations in 1901
The railway was fairly short lived. It opened in 1896, but ceased to operate in 1901 when the council were introducing more sea defences along the coast and wanted to build groynes out into the sea. An agreement was reached whereby the track was removed and Magnus was given as compensation an addition to his existing land-based electric railway.