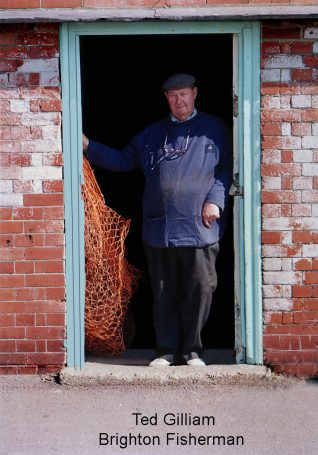 Photo by By Rick Smallman
Sunday visits
Many years ago my late father used to take my sister and I to the beach in front of the fishermens' arches usually on a Sunday. The highlight of the day was to place the pieces of timber under the boats as they winched them up the beach for which I was paid threepence, remember that many sided coin?
Uncle Ted
Ted Gillam was always known to me as Uncle Ted and it remained that way until the last time I saw him when, surprisingly, he said that I could now call him Ted. That was about nineteen years ago now when I flew back to attend my father's funeral from my home in Australia. For some unknown reason he did not come back to my sister's house for the customary wake.
Protective friends
The following day I went to the beach and asked two young fishermen if they knew where Ted was. Until I told them who my Dad was (Harry or Sailor) they were not very forthcoming, being very protective of Ted I suppose.
A pint and a chat
Explanations made, however, the mood changed and soon I was in a bar having a pint or two with Ted and chatting over old times. Before leaving I managed to get him to pose for this photograph. I, for one, am proud to have known him.