Brighton Fisherman's Society c.1999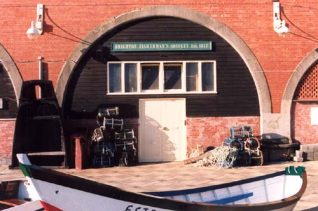 I first came to Brighton in 1987 when I was 14 years old. I didn't return for years, but then came back in 1999 taking many photos with every visit.
This photo shows the Brighton Fisherman's Society Established in 1813, which is located under the Arches along the sea front. I took this photo because I thought there were some interesting curves and shadows in the picture. I like the way the boats have unique names and the way the nets are left for the next day's fishing.
I now live in Sussex Square, Kemptown which I love. I find Brighton a bit eccentric, and a bit 'anything goes', but you can be who you want.