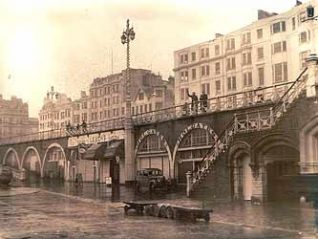 From a private collection
King's Road was much narrower in 1886, when it was widened, than it is today. The road, which was finally surfaced with tarmac in 1910, extended over existing arches on the Lower Esplanade. The Arches ran under the street and were big enough to house large fishing boats.
The Arches run from the Hove Boundary (No.1) to the Palace Pier (No.256) and beyond to the Peter Pan playground. A subway from West Street exits next to the round public shelter arch No.151 which opened in 1887.
Various services and entertainments can be found in many of the arches between the piers. These include amusement halls, bars and night clubs. The council seafront office can be found at arch N0.141 and arch No.150 houses the first aid station.