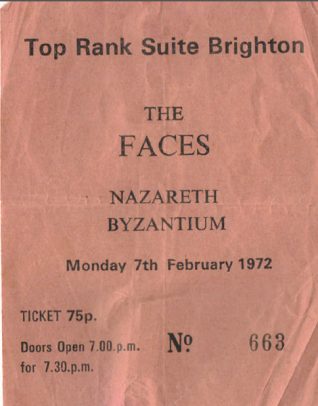 From the private collection of Paul Clarkson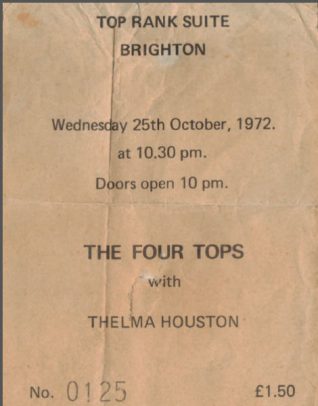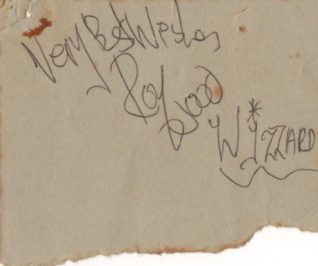 From the private collection of Paul Clarkson
Opened in 1965
The Top Rank Suite as we knew it, was opened on the 10th November 1965; it was designed by Russell Diplock and was the first part of the new West Street/Churchill Square re-development after the war. In December 1966 a ten-pin bowling alley and an ice rink were added. The bowling alley closed in 1970 and the ice rink the following year due to falling revenue. In 1972 the building was re-named the Kingswest and it was split into several bars and a cinema. Local people had a love/hate relationship with the building, many saying it was ugly and not in keeping with the buildings on the seafront. Others, mainly the younger generation, loved it for its entertainment.
Great groups in the 1970s
The early 1970s were the best time as they had some great groups play there. My wife saw Rod Stewart and The Faces supported by Nazareth for the princely sum of 75p on 7th February 1972, she remembers it being absolutely packed. She also saw the Four Tops in the same year. I saw Lindisfarne in 1972 supported by Genesis who were still a 5 piece band with Peter Gabriel at that point. The stage was too small for all of their equipment and they seemed to be as packed in as we were in the audience. At the end of their last song 'The Return of the Giant Hogweed' a huge flash went up from the edge of the stage as part of the act, but a member of staff at the back pulled the plug thinking it was a fire. That was that, we didn't get an encore.
A meeting with Roy Wood
Later in the year I saw Slade with Suzi Quatro and Thin Lizzy supporting. Dave Hill of Slade was nursing a broken leg and had to sit at the side of the stage. Mott the Hoople also appeared at the Suite and at the time they had just released 'All the Young Dudes' so again it was packed solid. The one gig I will always remember was Wizzard with Roy Wood. It was October 1972 and their first tour after Roy's departure from ELO, so we were keen to see them. It started at 7.30, we saw the Third Ear Band and Discovery at the start of the evening. It got to midnight when Roy Wood walked on stage to announce they could not play as their lorry had broken down containing all their gear. As an autograph hunter at the time, I was determined to get something out of the evening so I chased him round the back, and just before he disappeared up the spiral staircase I managed to catch up with him, and he signed the back of my ticket!
Do you remember?
Did you see any of these groups? Maybe you remember seeing other groups here? If you can share your memories with us, please leave a comment below.