Restored to its former glory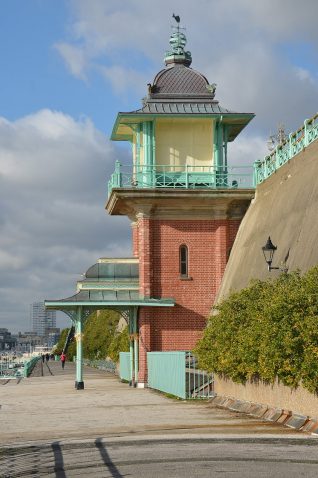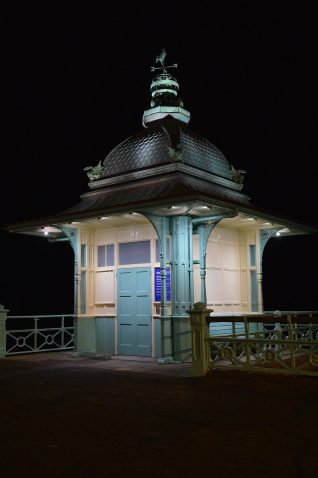 Grade II listed building
The covers came off the historic Madeira Terrace lift this week to reveal a stunningly renovated roof and dramatic new lighting. The Grade II Listed lift has been under wraps for a year while a specialist team has worked to restore it to its former glory.
Opened in 1890
Originally opening in 1890, the lift links Marine Parade with Madeira Drive and, in its heyday, carried thousands of visitors to the beach. Originally powered by hydraulics, the lift descends into a shelter (now Concorde 2) which was designed to accommodate visitors during bad weather.
A specialist renovation team
Major work to the lift mechanisms and shaft was carried out in 2009 – the roof work is the final phase of the restoration project. The specialist roofing team included a retired restorer, now in his 80s, who received delivery of torn and split sections of the roof to his shed in Gloucester where he recreated the apron that secures the scales to the upper roof.
Exterior lighting fitted
Two of the original griffins, which sit on the corners of the roof, have been repaired and the remaining two cast to match. The large orb and weathervane have also been repaired and were finally lifted into place by five men who carefully adjusted the dolphins and compass to point in the correct directions. Lightning protection hidden within the structure has also been added along with exterior lighting so the roof and lift can be seen at night.
The lift operates in the hours of 9.30am until 7.30pm, from Easter and throughout the summer season.
Read about the history of the Madeira Lift here.