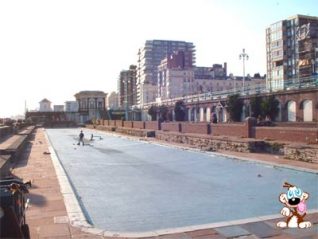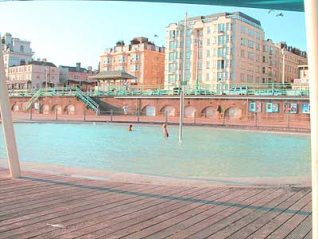 "I think one of the favourite places that my mum and me used to go is the little paddling pool on the beach. In the summer my two best friends (Rosie and Rosemary and their mums), my mum and me took a day trip down there from East Slope – Sussex Uni Campus where we lived.
We got all kitted up and filled my friend's silver Beetle up with inflatables, food, drink, towels and sun cream. I clearly remember (as I was only 4 or so) going to a shop that would blow up my inflatable crocodile, and Rosemary and Rosie would sit on the back of it and I would pull them up and down the pool.
It used to always be full on a summers day with kids everywhere screaming and splashing but now it's empty and its only use is a place where skaters can go to practise tricks. Now there is a new one which is far fancier as it has a small park and fountain, (I think that one would have been better for us as it is bigger and better) but I still prefer the old one as it holds many of the few memories I remember from when I was little."
Elana (Parisse's mum)
"I've chosen the paddling pool down on the seafront by the Westpier. It's not in use anymore but it used to be lovely for us during the summer. Many days were spent down there, parents and their children – it was a cheap day out.
There were a few of us who lived on the University Campus, and we'd bundle into a car or jump onto the bus with inflatables and a packed lunch. It was so nice to be able to sit and read and doze while the kids played safely. My daughter had a crocodile inflatable and she took it in turns with her friends to sit on the back of it and be pulled up and down the pool.
Walking past there now, I can almost hear them playing. They've made a new and improved pool with play equipment and a sand pit just a little further along the front. It looks very nice, but at 12 she's far too old for it now. Shame. I wonder what will happen to the old paddling pool."