Roller skating in the late 1950s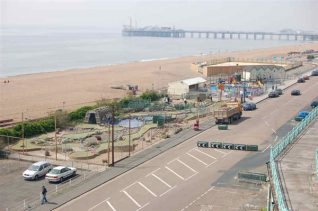 ©Tony Mould:images copyright protected
One size fits all
At the end of the 1950's, my sister took me roller skating, at Peter Pan's Playground, via the Volk's railway. You paid your money and were given a pair of 'one size fits all' roller skates, adjusted, underneath, to fit your particular foot size You fitted these skates on, over your shoes. As a child the rink seemed to me to be a huge place. Around the edge, at the bottom, was a series of planks, into which you banged when you wanted to stop; there was also a handrail. As an eight or nine year old, I clung on both to the rail and to my sister.
Do you remember skating at Peter Pan's? Share your memories by posting below.
Just one visit
I only went there once. As soon as my sister had let go of my hand, I fell and hit my head, hard, on the plank around the edge. I went home, feeling disappointed and, unknown to me at the time, with an egg shaped bruise on my forehead. It must have looked bad as my mother hugged me and cried when she saw it. As is usually the way with these things, I recovered quickly but never wanted to go near the roller rink again.
Can you help?
Unfortunately we do not have any old photographs of Peter Pan's Playground. Does anyone have any old shots. Maybe when you went there as a child? If you can help mail me?
jennifer@mybrightonandhove.org.uk