Rock and Roll on the beach.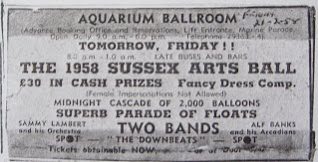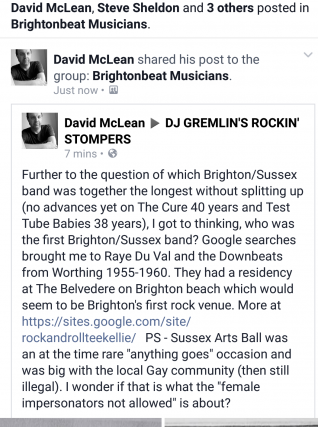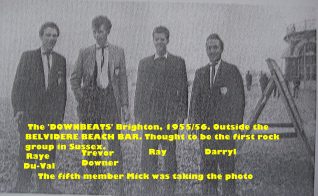 The Belvedere Beach Bar, a couple of doors away from the Fortune of War, on Brighton beach, 1955. The first place that was willing to give the Downbeats the chance and the Downbeats rock and Roll group were providing the entertainment.
The first rock group?
Five young men from Worthing had brought rock and roll to the town, every night plus afternoons on Saturday and Sunday. Thought to be the first Rock group in Sussex, Raye hitting the drums, Mick, Darryl and Raye playing guitars and myself, Trevor, singing the songs.
The Downbeats maybe didn't look so good, but, the sounds were great. Word started to spread and spread far enough for record companies to send agents to hear them. Unfortunately, their audition for the television show "Oh Boy" did not get a booking for the show, and Trevor was signed up by RCA records that did not result in a recording.
One gig of note was the Sussex Arts Ball in 1958, I remember it well.