Sunny Brighton memories of an Ex London boy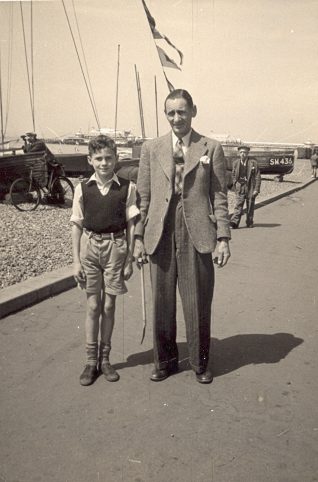 I was born in 1942 in north London. So in the 50s Mum, Dad and I usually had our very short summer holiday in Brighton. The train journey was the first excitement, then walking from the station the first sight of the sea was the real start of our holiday. We stayed in one of the many small B&Bs.
Aunty's favourite treacle tart
Later my auntie Biddy moved from London to Saltdean so while mum and dad stayed in the B&B I'd stay with my favourite auntie – who'd always make a treacle tart for me. There were many lovely times just lazing on the beach, riding on Volk's Railway, visiting both piers and it always seemed to be sunny.
A great treat for me
The attached photo is me and my dear dad taken I guess in 1954. I'm wearing my usual black plimsolls, woollen socks that never stayed up and an 'S' snake belt. Dad is dressed in his usual jacket and tie – with tie-pin! In the evening we'd visit Madeira Drive where there was a bar with outside seating. My Mum and Dad would have a drink – probably a beer for dad and a sherry or Babycham for Mum – I'd have lemonade. But the best thing for me was watching the house guitarist playing an acoustic guitar with an electric pickup and playing through an amplifier. I was hooked! I now collect vintage guitars.
One of the Beatniks
In later years I was one of the Beatniks that slept under the pier – I was one of the Highgate lot – which included Rod Stewart, Angus, Kenny Knight, Ken Pearson, Kay (who I was madly in love with) Italian Tony, Vintage Dave and so many others.