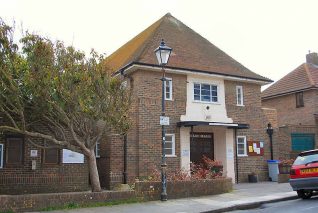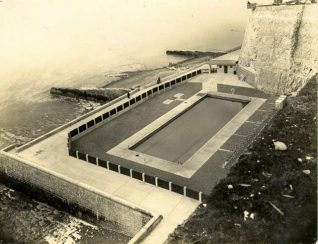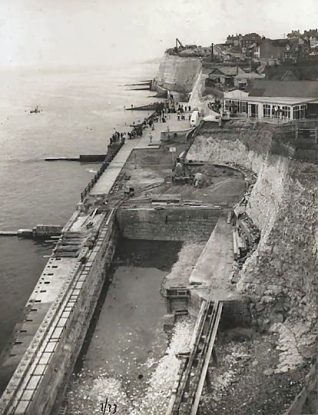 Reproduced courtesy of Royal Pavilion & Museums, Brighton & Hove
Please note that this text is an extract from a reference work written in 1990.  As a result, some of the content may not reflect recent research, changes and events.
The village has two community centres. The Whiteway Centre, Whiteway Lane, was opened in April 1974. The other, Rottingdean Public Hall in Park Road, was built in 1935. The corporation's Rottingdean Library opened in December 1929 at the Church of England School on the southern side of Nevill Road. In about 1948 it moved to a house in Marine Drive between Park Road and West Street, but in 1953 the corporation purchased The Grange on the eastern side of the Green and opened it as a branch library on 29 January 1954.
Rottingdean swimming-pool was opened by the mayor, Edward Denne, on 29 July 1935 in conjunction with the Undercliff Walk extension to Saltdean. A sea-water pool 100 feet by 35 feet, it had few facilities but occupied a wonderful location below the cliffs. In 1989 it was privately leased but damage in the storms of January and February 1990 have probably caused its permanent closure. On the eastern cliff top, behind the fence above the pool, lies the Hangman's Stone, named after the sheep-stealer who, after falling asleep at this point, was strangled by the lead he had attached to his booty.
Any numerical cross-references in the text above refer to resources in the Sources and Bibliography section of the Encyclopaedia of Brighton by Tim Carder.