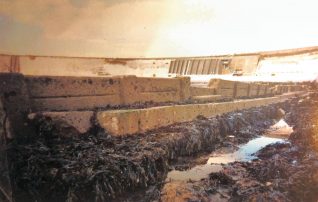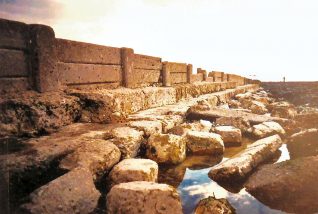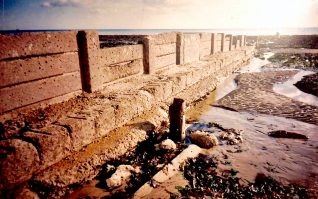 Construction started 1928
The Undercliff has seen a few changes over the generations.  Some have been sudden and relatively quick, such as the initial Undercliff Walk construction of 1928-1935, and the recent major rebuild we enjoy today. There has been other, less dramatic and more gradual change.
Groynes date from c1906
These photos taken in 2003 show the wonderful inter-tidal stretch of coast off Ovingdean Gap. The two groynes are the sole survivors of nineteen that once stood between Roedean and Saltdean.  Dating from 1906-1911, these pre-date the Undercliff Walk itself, and had in fact been the first reinforced concrete groynes in England. I think it is incredible these sections have withstood the sea for a century.
Easy access to the sea
Over the years, they've been handy to sit on, or sit against, for a sunbathe.  Since childhood not only have they been fun to walk along, but have provided relatively easy access to the sea at the very lowest of tides for a paddle and some rewarding "rockpooling".  Excellent views of the coast, too, have been possible from them. Now in rapid deterioration, these century-old walls will eventually disappear, perhaps sooner rather than later … who knows?
Do you remember?
Did you ever go 'rockpooling'? Please share your memories by posting below.