Repairing the West Pier structure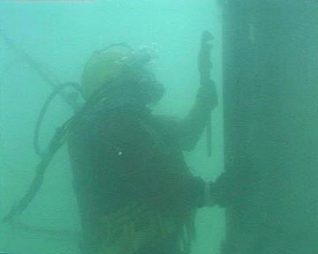 The sort of work we were doing was strengthening Pier legs by attaching jackets, which are metal encasements around the piles.
This is a shot of another diver bolting up a jacket. They're about three metres high, these jackets – they're huge. Because you're relatively weightless underwater, you can jump up three metres easily.
On a commercial dive team, there are a minimum of five divers on the boat. Only one diver dives at a time. The others are all back-up.
A second diver is a stand-by, dressed in same equipment, holding the diving helmet in his lap. Then you have guys on the surface who attend the diver's umbilical – because it's about 75-100 metres long. Underneath the Pier, it's a junkyard, full of razor-sharp lumps of metal. If you imagine walking through a junkyard, in very poor visibility, towing a 75 metre rope, it gives you an idea… you have to keep an eye on the umbilical.